A. Ron Carmichael, R.Ph. and Level IV-NTS Archery Coach,
jack of many trades and adopter of many challenges.
The Carmichaels - Alan Sr., Bea, Lindsey, Ron, and Gina, together with adopted daughter Laurel, took a cruise, a cross-country trip, and had a great time all told. We're not sure why Gina is the only one in white in the photo....hmmmm....

VITAMIN D: this has become a "crusade" for Ron, to persuade more people to adopt sound approaches to health.
Magic Foundation - Lindsey has spoken to this group at their annual convention several times.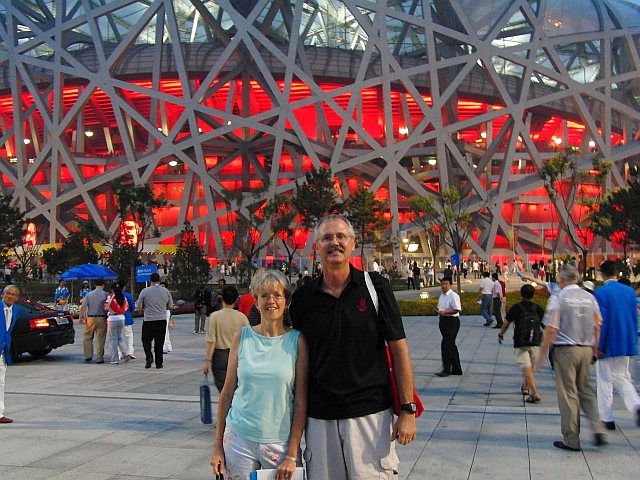 2008 Beijing Paralympics - Photos
If you go to China, see the wall at MuTianYu, see artisan glass blowing, and have a meal that will astonish:
www.theschoolhouseatmutianyu.com
www.roadhouseatmutianyu.com

www.chinacountrysidehotels.com

oh yeah, and take the "slide of death" down from the wall - a stainless steel toboggan ride that is *awesome*!
2010: Ron returns from Shenzhen, China. He was Team Leader for the US Collegiate Archery Association's Elite Team competing in the WUAC (World University Collegiate Archery Championship)
in Sept. 2010. We returned from competitions (27 countries participated) with 6 medals, including 4 gold, a silver, and a bronze medal. WUAC 2010 Competition Photos are here.
Photo Library of Bronze Medallist Lindsey Carmichael (during Beijing Competitions in 08) - first American woman to medal in singles archery competition in 35 years for the USA. Wikipedia has her listed. Ron awarded the Order of Ikkos as an elite coach for USA Archery to mentor an athlete who in turn medaled during the games,
Lindsey's personal website

DISCLAIMER & CAUTION not enough for you? Ok, here is the .....